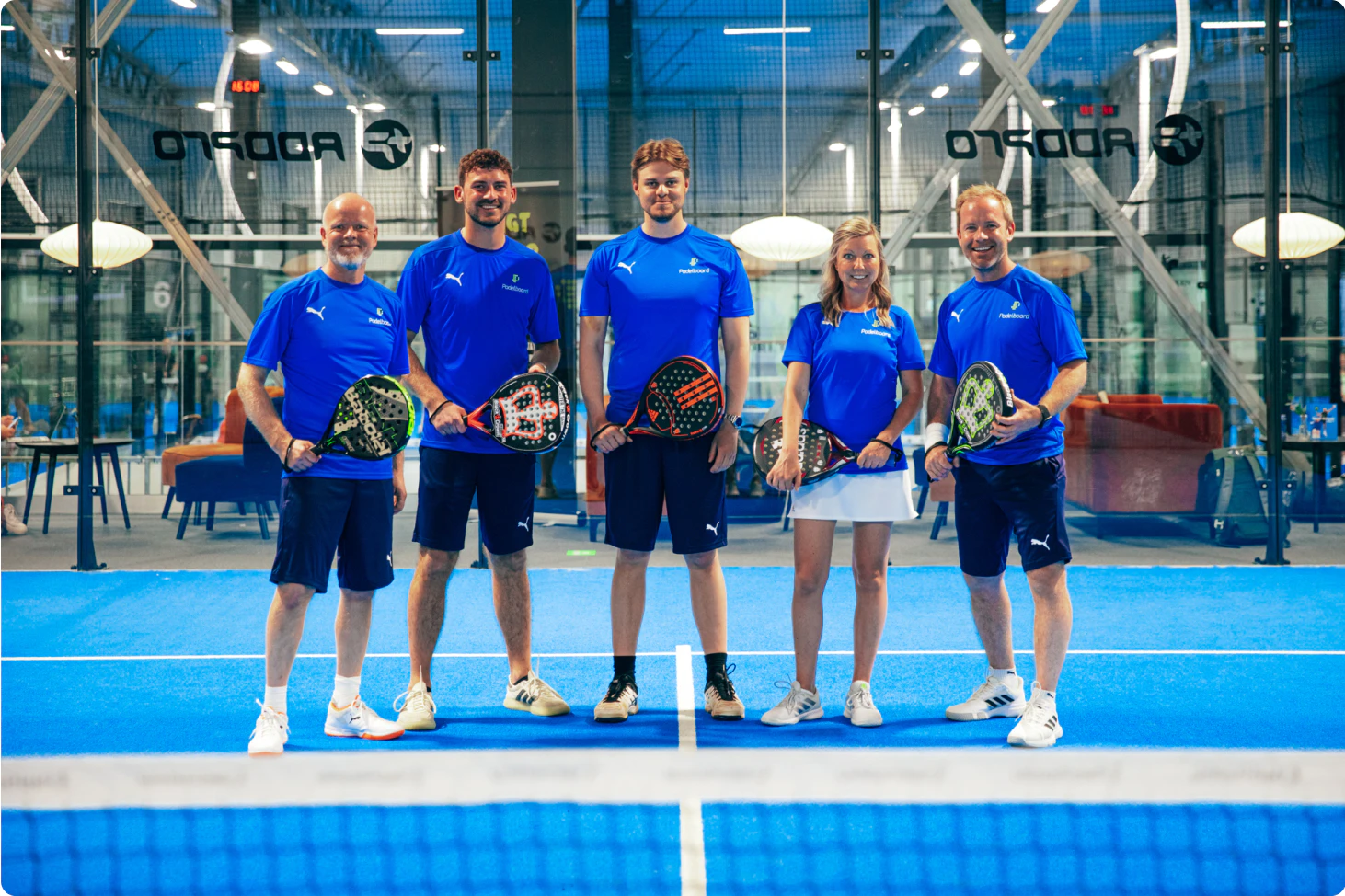 It all started during the christmas season of 2019, when the future Padelboard-team were participating in an Americano tournament, a very messy one.
The host was losig it. The participants did not know where to play, or with who. Players that weren't even participating in the tournament were asked about what there scores were. And not to mention how much time was spent on reporting results and getting your new draw.
It was chaos, to put it mildly.
"Why isn't there an app for this?!"
…someone shouted while reporting their score to the host. And that was the start of Padelboard.
The team was put together and an MVP was built. In November of 2020, after months of iterations and user tests, version 1.0 of the App was released on the Apple App Store and Google Play Store.
The reviews were positive and a complete redesign of the interface began.
2.0 brings Padelboard to the next level
The Spring of 2021 was when the next version of the app was released into the App Stores. Improved user experience, a beautiful interface, new features and a more stable game-engine was the result of hard work and further user tests.
New users flooded the app and venues around Sweden started trusting Padelboard to manage their tournaments. Both users and venues gave hugely positive feedback.
New features were rolled out continuously and 3 new game types were added:
Mexicano
Team Americano
Team Mexicano
Padelboard was no longer just an Americano-app, but a complete tool for hosting Padel tournaments.
The dialouge with the Padel community increased, and after multiple requests from venues the decision was taken to develop a cloud-based solution to further enhance the experience for hosting larger tournaments.
Padelboard Arena – the requested cloud service for tournaments
Padelboard Arena was launched during the fall of 2021. A cloud based service enabling venues to manage their tournaments from any browser.
More features enhances the control and flexibility. And most importantly, Padelboard Arena enables the hosts to handle the whole tournament, without involving the App. That enables the venues and players to decide for themselves on how they want to play.
More features included in Padelboard Arena:
Steam the game plan and standings to a TV
Add players without their phone number
Automatically generated posters for each tournament
The possibility to customize the app with the venues logo and colors
Padelboard Arena and the App create a complete tournament service for Padel. A service that's constantly being improved and extended with new features and game types.
Our ambition is to provide the ultimate tournament tool for Padel, around the world. It doesn't matter if it's for a family game, a league, a company event or a professional competition, we are going to make better experience for players, hosts and the audience.
New chapter - Padelboard By MATCHi
We have been part of MATCHi since March 2022, one of the world's largest booking platforms for racket sports. Something that gives us even better opportunities to develop tournament products that are appreciated by both players and venues - worldwide. MATCHi's broad knowledge, expertise and experience about padel will be invaluable on our journey going forward – making the sport more tournament based.
New name, same mission
We exist to enable fun and easy padel tournaments for enthusiasts around the world. This has always been our mission, and will continue to be. As a natural step on this journey, we are now changing our name to Padelboard By MATCHi. Together we'll create the ultimate competition experience both today and tomorrow - regardless of name. We're happy that you're enabling this padel adventure!
The Padelboard team
Email

bengt@padelboard.app

Email

caroline@padelboard.app

Email

maximilian@padelboard.app

Robin Lundgren

Business Developer / President

Email

robin@padelboard.app
Prenumerera på vårt nyhetsbrev
Håll dig uppdaterad om vad som är på gång med Padelboard Arena